imageHOLDERS Tablet Kiosks Secure an Impressive Augmented Reality Experience.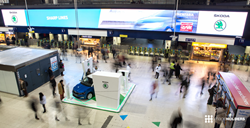 (PRWEB UK) 24 February 2015

Skoda Cars in conjunction with MediaCom, one of the worlds leading media agencies, interactive agency Enigmacode and advertising specialists, JCDecaux, recently held an impressive experiential event in the heart of London at Waterloo Station.

Tying together a busy location, computer tablets in secure enclosures, a state of the art app, augmented reality, social media and Europes largest advertising screen they efficiently combined traditional user participation with an ingenious contemporary digital tech.

Interested passers by would chose from the various options presented by the tablet based app that once processed, could then sit on a car seat in front of a green screen. The videoed image of the user, sitting in an augmented reality car was then displayed up on the giant screens around the station. This could be sent out via the users social media contacts but also became the perfect opportunity for a highly original selfie.

Andy Newman, co-founder of Enigma, said: "For this campaign were fusing real-time AR technology with a specially-designed app. Members of the public will have the chance to design their own car from scratch in real time on tablets secured in ergonomic iPad kiosks. This truly expresses the art of customer control as we see their creation literally build around them on Europes largest advertising screen."

With such a large presence at the station the event was hard to miss. The next important stage was engaging potential users to participate in the on-line configurator. The essential thing at this point was making the tablet secure but presentable in a very busy environment. This was accomplished with iPads secured in Image Holders freestanding tablet kiosk stands positioned around the event.

These lived up to the specified requirements and offered the tablets and apps to the public without giving the event organisers a moments worry about theft or damage to the equipment.

Manufactured to very high specifications with protected power cables, lockable internal trays and the ability to be bolted to the floor when necessary, the enclosures easily satisfy security issues but additionally offer branding opportunities both on the bezel and the flat panel support giving any company a re-usable asset with the capability present multiple apps in numerous situations.

With applications as diverse as entertainment, data capture, exhibition display, E.P.O.S, digital reception, advertising, airport check in, gaming or inter company announcements to name but a few, Image Holders manufacture enclosures that can safeguard hardware investment and present apps, demonstrations or any other enterprise in an elegant and purposeful way.

With a design ethos based on solving existing business application problems, Image Holders have a long track record of marketing products that have successfully solved these problems with working solutions. Many of theses can be seen on the Image Holders website in the Blog section. http://www.imageholders.com

About Image Holders

Image Holders design and manufacturer specialist ergonomic and secure tablet enclosures and kiosks for business applications in many sectors, which enables the use of mobile technology in the workplace and public spaces by removing risk.

A clear and comprehensive tablet enclosure strategy makes us unique in this marketplace. With an off the shelf offer covering virtually every available tablet and the flexibility to reengineer standard products to incorporate many OEM devices. Finally the offer a bespoke design and manufacturing service to companies wishing to create something new and unique.

Based in Dorset in the south of England Image Holders also have a manufacturing and warehousing facility in China and ship worldwide from both locations.

For more information on this release please contact marc(at)imageholders(dot)com

Image Holders.
Enabling Business Apps


More Cars Press Releases

Tags: 2015, about, Addition, advertising, Agency, Airport, around, Augmented, augmented reality, Available, Based, Bespoke, blog, brand, Business, Busy, ca, cable, Camp, Campaign, Capture, car, cars, China, clear, companies, Company, Comprehensive, Contact, control, Corporate, Could, Cove, cover, Create, Custom, Customer, data, Design, Digital, display, Ease, Easily, efficient, enclosures, engine, england, Enterprise, Environment, Equipment, Erin, Event, Every, Exhibit, experience, Final, Form, Found, Free, from, full, fully, giving, Green, Guard, high, HOLDER, Hose, imageHOLDERS, Impressive, Iron, Issue, Issues, kiosk, Kiosks, Lead, Leading, lease, List, london, long, Makes, Manufacturer, Manufacturing, many, Mark, Market, Marketing, Media, Miss, Mobile, More, Multi, Next, Offer, option, Options, Organiser, original, Over, pa, panel, Part, pass, patio, Place, PLAY, please, Point, position, power, Present, Problem, Process, Product, Protect, Protected, prweb, prweb uk, Public, real, Reality, Recent, Release, Releases, require, rest, Ring, Rope, rta, Safe, screen, Seat, Secure, security, SEEN, self, Service, site, Social, social media, Solution, Solutions, some, South, Space, Spaces, Stage, stand, Standing, Station, sting, Success, Successfully, Support, Tablet, Technology, their, them, They, this, time, Track, uk, under, Users, Using, Vice, video, Virtual, Water, Website, work, working, World, worlds

Trackback from your site.